De iPhone 6 is een populaire smartphone en wordt door veel mensen zeer intensief gebruikt. Een beschadiging van het iPhone 6 scherm of de achterkant zijn veelvoorkomende problemen die een deskundige reparatie vereisen. Na verloop van tijd kunnen bijvoorbeeld ook de batterij, knoppen of aansluitingen niet meer naar behoren werken. Gelukkig kunnen al deze problemen snel verholpen worden met een iPhone 6 reparatie in Rotterdam. Maak snel en gemakkelijk een afspraak online!    Lees verder
iPhone 6 onderdelen vervangen
iPhone Kliniek verhelpt bijna alle problemen die bij een iPhone 6 kunnen voorkomen, tegen zeer scherpe tarieven. Loop niet langer rond met een storende barst in het scherm of beschadiging, maar laat uw iPhone 6 scherm vervangen, de gehele iPhone 6 achterkant vervangen, of de iPhone 6 batterij vervangen. Na reparatie is uw telefoon weer als nieuw. Een iPhone 6 reparatie in Rotterdam voeren we bij iPhone Kliniek altijd snel uit, zodat u nooit lang zonder telefoon hoeft te zitten. De reparatie aan uw iPhone 6 wordt vakkundig door een gespecialiseerde monteur uitgevoerd. Klaar terwijl u wacht dus!
Hieronder vindt u de iPhone 6 reparatie tarieven die het meeste voorkomen. Mocht u een reparatie hebben die hier onder niet is vermeld, dan kunt u een bericht sturen via de contactpagina, onder vermelding van iPhone 6 reparatie.
Werkwijze iPhone Kliniek
Bij ons wordt u geholpen door een deskundige iPhone-monteur die u in alle openheid laat zien wat er met uw toestel gebeurt. U hoeft namelijk niet in een aparte wachtruimte te gaan zitten, maar neemt comfortabel plaats aan de reparatietafel. Heeft u tijdens de reparatie vragen? Dan mag u die natuurlijk altijd stellen. Bij de iPhone 6 reparatie in Rotterdam maken onze specialisten altijd gebruik van originele iPhone-onderdelen. Zo kunnen wij de kwaliteit garanderen en weet u zeker dat uw iPhone 6 weer helemaal als nieuw én origineel is. Bij iPhone Kliniek krijgt u bovendien altijd drie maanden garantie op de gebruikte onderdelen. U heeft daarmee maximale zekerheid. Weet u nog niet precies wat het probleem is met uw iPhone 6? Dan onderzoeken wij uw telefoon en laten u tijdens uw bezoek weten wat het probleem en de oplossing is. Onze monteurs herkennen de meeste problemen snel en kunnen u duidelijk vertellen wat de reparatie zal gaan kosten. Zo weet u altijd precies waar u aan toe bent.
Is uw iPhone 6 scherm kapot? En u wilt iPhone 6 scherm laten vervangen? Bij onze experts kunt u uw iPhone 6 scherm laten vervangen. Wij kunnen de iPhone 6 met een kapot glas perfect herstellen binnen 30 minuten. Onze ervaren monteurs vervangen het scherm van de iPhone 6 door een nieuw, origineel exemplaar. Onze ruime ervaring gecombineerd met kwalitatief hoogwaardige producten vormt de kracht van iPhone Kliniek. Neem contact met ons op om uw iPhone 6 scherm reparatie voor een scherpe prijs te laten maken. Klaar terwijl u wacht!
Online afspraak plannen
Natuurlijk bent u ook zonder afspraak van harte welkom bij iPhone Kliniek Rotterdam. Een online afspraak plannen is echter wel aan te raden en erg gemakkelijk, zodat u bij binnenkomst altijd direct geholpen wordt. Een afspraak is snel gemaakt en kan vaak dezelfde dag nog plaatsvinden. Een iPhone 6 reparatie voeren we vrijwel altijd binnen een half uur of zelfs sneller uit. Maak daarom snel online een afspraak, we helpen u graag! Lees minder
Compleet Scherm Unit

Accu Unit

Origineel Achterkant

Aan/Uit knop flex kabel

Koptelefoon aansluiting kabel

Dock Laderport Flex Unit

Oor Speaker Unit

Interne Home Knop Flex

Camera Module Front

Camera Module Back

Loudspeaker Unit

Trilmotor

SIM Card Tray

Onderzoek kosten

Software herstel

Chemische reiniging

Kies uw reparatie(s)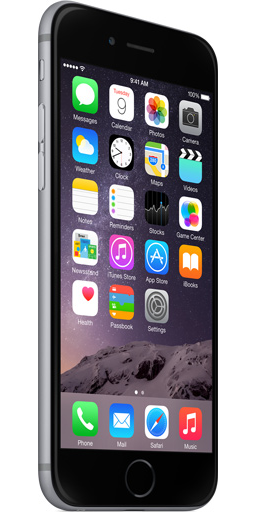 iPhone 6
Modelnummer
A1549, A1549, A1586
Introductiejaar
2014
Specificaties
Capaciteit
16, 64 en 128 GB
Scherm
4,7 inch 1334 x 750p
Afmetingen
138.1 x 67 x 6.9 mm
Gewicht
129 gram
Batterij
Li-ion